Book Title: Howl's Moving Castle
Author: Diana Wynne Jones
Genre: Fantasy, Magic, Romance
Target Audience: Young Adult
Publication Date: August 1st 2001 by Harper Trophy
"I'm dying of boredom," Howl said pathetically. "Or maybe just dying." 
Why I chose this book
My husband has been a Studio Ghibli fan for a long long time. So it was only right for him to introduce me to them. His favourite Ghibli film is Laputa or Castle in the Sky (since they don't really like using the work Laputa since they found out the Spanish Translation). My Favourite from what I have seen so far is Howl's Moving Castle so when I found out it was based on a book I had to get my hands on it.
What it's about
"How about making a bargain with me?" said the demon. "I'll break your spell if you agree to break this contract I'm under."

In the land of Ingary, where seven-league boots and cloaks of invisibility really exist, Sophie Hatter attracts the unwelcome attention of the Witch of the Waste, who puts a curse on her. Determined to make the best of things, Sophie travels to the one place where she might get help – the moving castle which hovers on the nearby hills.

But the castle belongs to the dreaded Wizard Howl whose appetite, they say, is satisfied only by the hearts of young girls…
https://www.goodreads.com/book/show/5985499-howl-s-moving-castle
Sophie is the eldest of three girls (unlike in the film she is the eldest of what seems to be two of them) and after her father dies she is taken on as an apprentice in his old hat shop. But as this is chapter two and doesn't mention a moving castle so much it gets so much more interesting when the Witch of the Waste casts a spell on her and Sophie's life is changed forever.
What I thought
As I mentioned above I love the film and the book:
This book was so much more than I was willing to give it credit for and like always the film has missed parts out which I suppose you could say is Artistic Licence.

Sophie is such a strong character and very cheeky but I suppose that if a witch turns you into an old woman then you can get away with some of the stuff she comes out with. I love how Sophie developed throughout the story. Being the eldest of three girls myself I did relate to Sophie in ways I didn't expect. I even rewrote the first sentence in the book and sent it to the family chat group. The first sentence is
In the land of Ingary, where things such as seven-league boots and cloaks of invisibility really exist, it is quite a misfortune to be born the eldest of three
You know how my mother replied "Tough get over it 😆 x"
Like Sophie on occasion I feel like I'm the one that has been doomed to fail while my sisters prosper. It's completely illogical to feel like that but I also feel like I've got to set an example to them too. I don't know why I feel like that I just do, maybe it's a common thing that I didn't know about until reading this book? Who knows.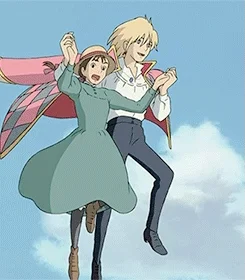 Sophie is almost exactly how she is in the film only with red hair. As a young woman she is known to be shy and retireing but as a woman she has the ability to put people in their place even when they far outrank her, whether magical or not.

One aspect about Sophie surprised me and it was an ability she wasn't aware she had either. It did make for a pleasant part in the ending.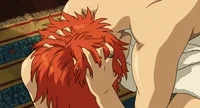 Howl Jenkins is very much like what you would find in the film, green slime and all.

Mysterious, thinks he's gods gift to women and very much a drama Queen. Not forgetting how much of a coward he seems to be. Was a little bit disappointed at the lack of the escape in the plane scene while disguised as the King but visiting his family well and truly made up for it. I should have guessed where he was from by his name alone but the film deluded me 😂.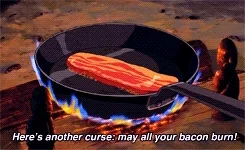 Calcifer actually said something along these lines and I was so happy when he did. What he actually says is "I hope your bacon burns" but I still read it in Billy Crystals voice.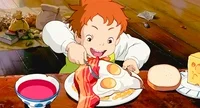 Markl (or Michael as he's known in the book) is very different to what I was expecting. Markl from the films seems like a small boy whereas Michael is a fifteen year old with heart eyes 😍. He does become more adorable throughout the book especially after learning of his past and how he became Howl's apprentice.
This story was heartwarming and I am glad I watched the film first in this case as the whole part about Howl's background and where he came from seemed hilarious (or Hiralious as my son would say) to me and I had to screenshot the page and send it to my husband who was appalled by it. Especially when one of the characters shares my husbands name.
As good as I thought it was I'm not quite sure Young Adult is the correct age range for this. Young adult as far as I am aware is 12 to 18 years of age but with all the fantasy magic and mayhem that ensues I think this could be suitable for readers of Harry Potter.
Star Rating
The five stars are not just for the story line or the way the author wrote it but also for the chapter names and these type of pictures at the start of each chapter.
Sophie looks pretty terrifying on this picture.
Have you ever read Howl's Moving Castle or seen the film? What did you think of it?