I Heart Characters! is a weekly meme hosted by Dani @ Perspective of a Writer to showcase our book blogger love for characters! I post my characters on Thursdays but feel free to post on whatever day suits you, about characters from whatever media you love (books, movies, K-dramas, television, manga, anime, webtoons, whatever!) and link up on the prompt post. ♡
This weeks theme is:
A Woman You Want to Be
(Literally any female character that you want to become. Just slip right into their life and take over! It can be for whatever reason, revenge, the world, her personality or loves, whatever!)
I love that all of March's prompts are to celebrate women when I seem to have been neglecting them without intending to on the past prompts.

I have chosen this woman so that she can get a well-deserved rest because she needs one with all the crap she has been through. She is kind-hearted, loyal, no-nonsense, strict, strong, powerful, caring, and ultimately a badass. I'm talking about non-other than this woman here: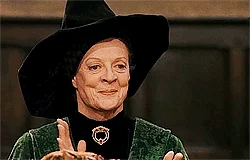 Minerva McGonagall is someone although fictional who I would aspire to be.
I love this woman
I honestly don't think the adjectives above do her justice. I love her passion for her work and to her family because that's what her students were no matter their age, from Lily and James Potter down to Ginny Weasley and beyond. The way I interpreted her actions is she put her life and soul into everything she did.

She protected her family from outside threats amongst them, Delores (Toadface) Umbridge and the Carrows. She fought Snape to protect Harry and subsequently the rest of the school.

She does all that yet we never see her take a break, what does she get up to on a weekend when it's not a Hogsmeade weekend, what does she do in the holidays?

Does she go on holiday? Does she have any hobbies? Does she go and see her brothers that I discovered somewhere while writing this post?

So I would be Minerva's little doppelganger so that she can take a well-deserved rest because Merlin knows she needs one.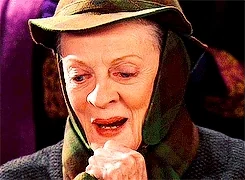 Just imagine how happy she would be to be herself for a little while without having to worry too much. Let's face it she will still worry she can't not worry and I know how that feels but to have time to yourself to do what you want, even if it's just an hour to have a bath and pamper yourself that's amazing.
So who would you choose for this prompt, I'd love to see the women you would be.

Follow me on Facebook, Twitter, Instagram and Pinterest