I Heart Characters! is a weekly meme hosted by Dani @ Perspective of a Writer to showcase our book blogger love for characters! I post my characters on Thursdays but feel free to post on whatever day suits you, about characters from whatever media you love (books, movies, K-dramas, television, manga, anime, webtoons, whatever!) and link up on the prompt post. ♡
This weeks theme is:
May 23rd 2019 – A Double Crosser 
(Anyone who betrays another character. Could be a horrible mom, someone mentally struggling or just plain evil!)
I've decided to go for someone who meets two out of the three parts of the prompts
It's not Meatloaf but I've been singing that song while writing it so I'm sharing my earworm and the love ❤.
Instead I've gone with: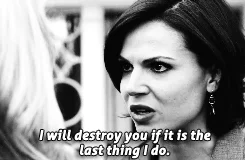 The Evil Queen
She clearly double crossed Snow White into giving her the apple in the Disney Version of Snow White but in Once Upon a Time she gave the poison apple and double crossed an entire town into forgetting who they are .
If that isn't evil then I honestly don't know what is. I get that she has the whole redemption arc but the way she was portrayed throughout the first few seasons I got why she was considered evil. There are others more evil than her, like her own mother Cora, but the way that Regina was turned into the Evil queen I thought was really good. 
and like they say throughout the show